Autumn 1
We have settled well into Year 1. Our topic this half term is 'Superheroes'. We have listed our favourite Superheroes and will go onto writing in sentences using capital letters, finger spaces and full stops. We have been very busy looking at letters and their sounds, and reading our tricky words.
In Maths we have been counting in 1's to 30 and back. We have looked at forming our numbers correctly and will continue to practise this throughout the half term. We are working hard to identify 1 more and 1 less than a given number. In the coming weeks we will begin to solve simple addition calculations within 10.
Autumn 2
This half term our topic is 'Space'. In Literacy we have written non-fiction sentences about the Solar System and have learnt so many interesting facts about the sun, the moon and the stars! We have looked at proof reading our work and self-editing to check for capital letters, finger spaces and full stops. We have also tried very hard to use the word 'and' to extend our sentences.
We have also looked carefully at rhyming words this half term and we have created our very own rhyming rockets! Our rockets are SUPER long with up to 10 rhyming words on them. We will go on to write our very own Space rhyming couplets.
In Maths we have continued to develop our knowledge of counting in 1's to 50 and back. We can now count in steps of 2, 5 and 10 too! We are working hard to develop our knowledge of addition and subtraction within 20 and are working hard to record these calculations in our books. We have been on a 2D shape walk and have played 2D shape dominoes and BINGO! This has really helped us to name, recognise and describe the properties of a range of common shapes.
Every Friday throughout the half term we have football with Conor. In these sessions we are developing our ball skills and our ability to work as part of a team.
We are also very busy learning our song for our Christmas performance! We are very excited for you all to come and watch us.
Take a look at us in our lovely Christmas jumpers. We are raising money for a great charity!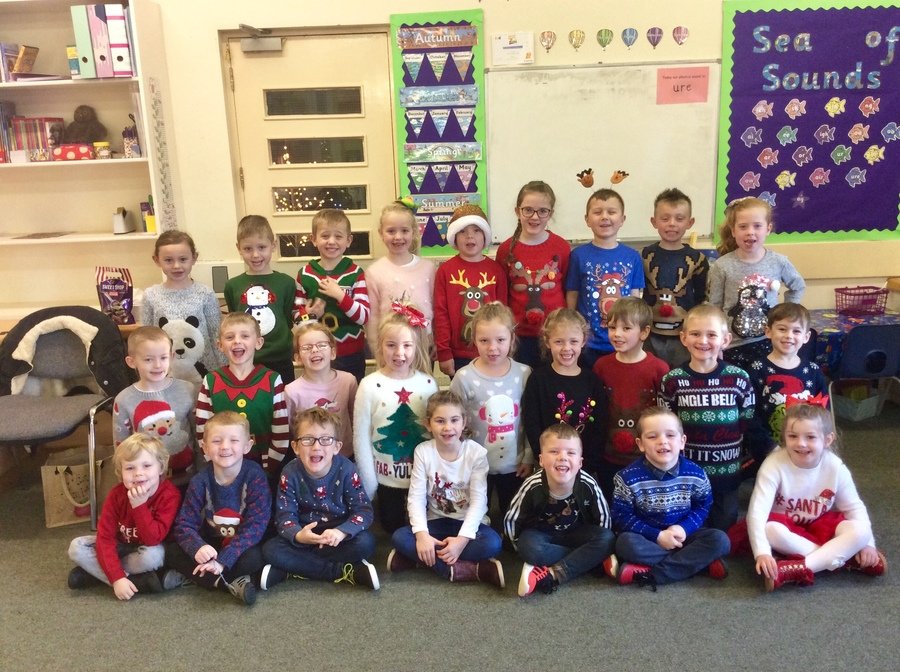 On Wednesday 19th December we had our Christmas party! We did lots of dancing and party games and even won some prizes! At lunchtime we had our Christmas dinner- it was delicious! Here is a photo of us wearing our best party clothes and dancing shoes!